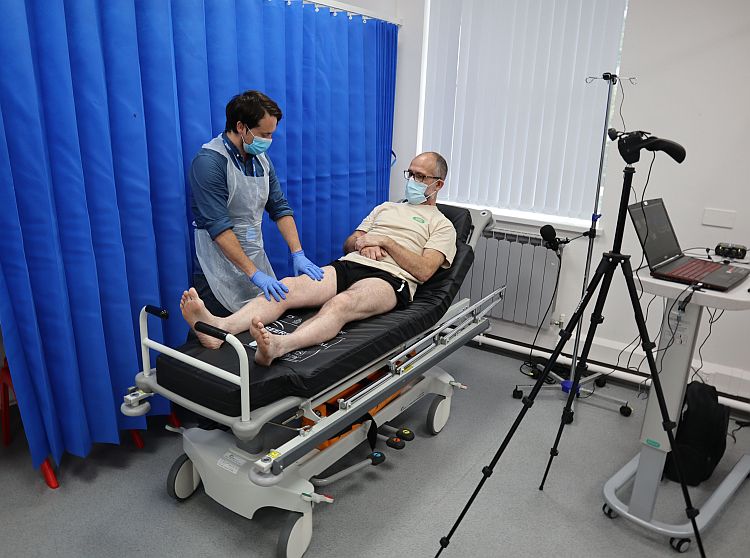 It's true to say that during the Covid – 19 crises our services have not been required as much as normal. Whilst many institutions seem to be struggling to embrace online teaching some have risen to the challenge and hit the ground running. We have been fortunate however, working with both Wolverhampton and Chester Universities on their PA Programs. This is great news as it helps keep our skillsets sharp and allows us the opportunity to embrace this new way of working.
Teaching online does have its challenges but I find it as easy as if we were working face to face with students in a classroom. The feedback we have received from students has been excellent and this gives us confidence that what we are doing is hitting the mark.
Working with students directly, and in particular with Physical examinations, has not yet been possible due to social distancing. This will change soon with September seeing us back in the driving seat working as ACEs.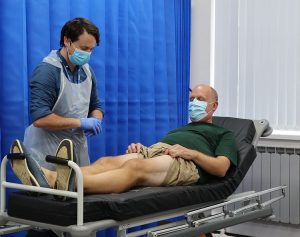 Many ACEs and role players are also trained actors which obviously ensures that scenarios are realistic and believable. We often get feedback from students saying how "real" they felt the interaction was, and because of our varied skillsets we often get asked to make training videos. These, more often than not, see us in consultations with us acting as patients, who might have challenging behaviours, as well as physical conditions and a comprehensive history.
Last week, we had a opportunity work with the Chester University PA Program when we were asked to take part in a filming session for James Ennis the Clinical Director at Chester University. We were tasked with developing a training video demonstrating a variety of typical Musculo-Skeletal Examinations (MSK).
We have been trained in clinical MSK examinations over 10 years ago by Professor Edward Davies (Consultant Surgeon) and Andy Emms (Consultant Physiotherapist) of the Royal Orthopaedic Hospital in Birmingham. This means that our level of skill and knowledge of how to prepare the students to perform these examinations is text book.
We often help prepare PA students and 4th Year Medical Students when working for The University of Birmingham Medical School in MSK examinations and this has sharpened our skills. This experience has been invaluable to our education as an ACE, as well as us being able to take advantage of online resources that are readily available if you know where to look.
The requirement was for us to go through complete Hip, Knee, Shoulder and Lumber Spine examinations, which also included Upper and Lower Limb Neurological exams.
With the help of Scott Howard from simulation, we managed to film all of the sequences and we look forward to seeing them being used by all those on the PA program in the near future. What made it even more useful was that we were able to review our knowledge base, and have an opportunity to practice skills we have not used for 4 months. It was a win-win situation!
I was assisted as always by my travelling companion Mark, who made the journey up to Chester pass by in the wink of an eye.
If you want to find out more about the role of the ACE and how we can help your students improve their technique, contact is at Meducate Academy.