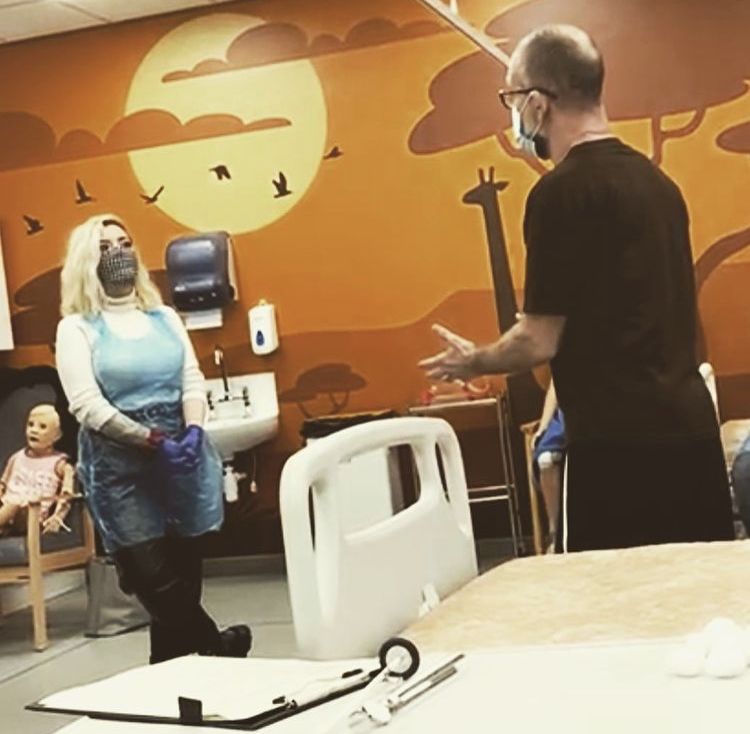 In my last post The Associated Clinical Educators Role In Providing Feedback To Student Clinicians, I talked about the importance of feedback to the Physician Associate student and how an ACE structures their feedback to ensure that they achieve the best learning outcomes.
Feedback is important to the student and is also of importance for us to receive feedback on our performance. This is a vital part of the communication interaction and helps us improve our facilitation skills.
At Meducate Academy we always want to hear what the student thinks of the session and we often ask them to appraise our performance and give us feedback, and it's always nice when that feedback comes in the form of a testimonial that you just didn't expect.
Last week we were lucky enough to work with the 2nd year Physician Associate cohort at The University of Chester. A very highly motivated group of students who show real promise. We were assisting clinicians in teaching MSK and general systems examinations, and the day went well.
There were six ACEs teaching all day and each group broke off into their separate rooms, observing the current Covid-19 restrictions. The students were able to take histories and then perform a physical examination. We then asked them to report their findings (if any) and give a summary and management plan.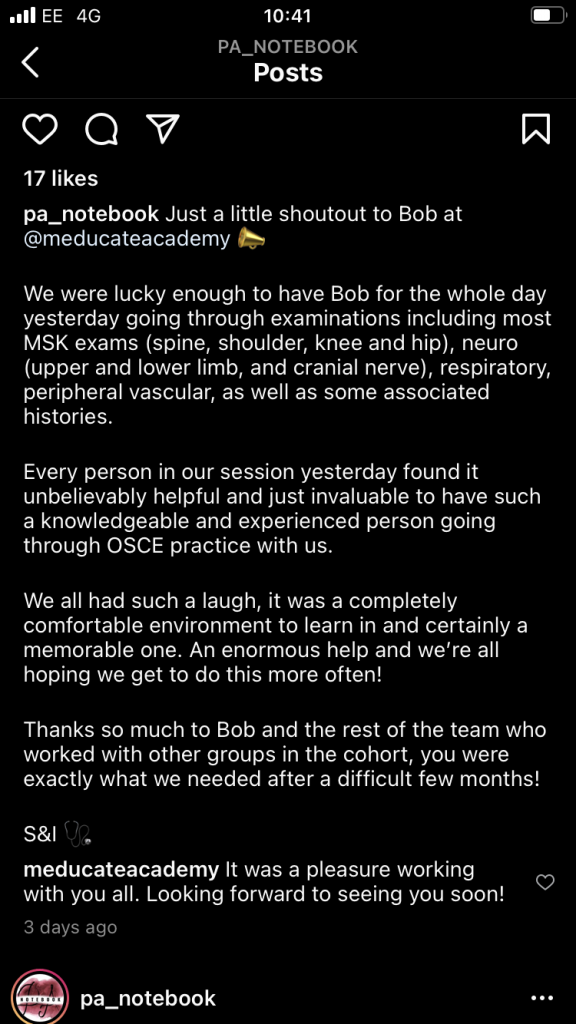 I was happy that everyone performed well (including the ACEs) and we left Chester in high spirits.
Our return journey to Birmingham gave us a chance to reflect on our performance and that of the groups we were working with, and we all felt that the day had gone well. Self-reflection is an important part of the process for all Meducate Academy employees and allows us to develop our skills to the highest standard.
Within 24 hours some students had put a post up on Instagram and I felt I had to share it here on the blog.
We are currently working on writing a manual that will help students pass their OSCEs. This is in partnership with a senior clinician from The Royal Orthopedic Hospital. It's aim is to give two different perspectives on the OSCE process. The first is from the point of view of the ACE/simulated patient and the other from the examiners perspective. We believe this is the first time anything like this has been published. As ACEs and simulated patients we have been involved in thousands of hours of OSCEs which in-turn gives us an insight into how students can improve their performance. Keep your eyes peeled for this in the near future.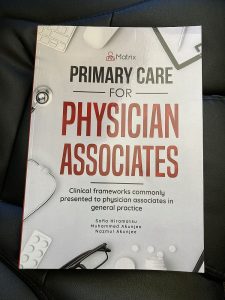 On a similar note Matrix Education has produced Primary Care For Physician Associates, an excellent reference source for the training of physicians associates which is available now. One of the authors, Sofia Hiramatsu, was an old student of mine at the University of Birmingham medical school. She is now a successful PA working in London and founder of Matrix Education. I am particularly proud of her achievements in the field of medical education. At over 600 pages, this book will be a useful aid to not only help you pass your exams but also serve as as useful aide memoir when you are qualified as a Physician Associate.