Meducate Academy has been providing student centered educational services now for five years. Five exciting years of ups and downs but mostly ups!
When we established the Academy in 2017 the world was a very different place, pre-Covid, when every thing looked brighter. We had established ourselves with two growing University departments. Wolverhampton had only just recommenced their Physician Associate Programme under the leadership of Gill Conde and Pete Gorman. It was going from strength to strength.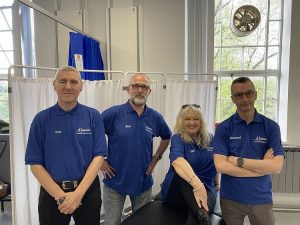 Chester University was also using our Associate Clinical Educators across their programme under the guidance of their new Clinical Lead James Ennis. Things were going well and growing rapidly. Who could have guessed what would happen next.
The Pandemic came as something of a surprise to everyone and things started slowing down for most educational institutions. Some closed their doors and didn't start up again until twelve months had passed and things for us looked bleak.
Simulation means being in front of students. Face to face interaction and hands on physical examinations which were the norm had all but ended for everyone.
Undaunted, we took the bull by the horns and started working online with history taking skills, and even had an attempt to run a pilot of online OSCEs. It was a creative time for us and our partners, and we learned a lot during that period. We adapted and improvised and came up with innovative new ways of teaching online and used a variety of different technologies to further our cause.
Once restrictions began to lift we were back to work but this time in full PPE, taking the students through the preparatory work on systems examinations in preparation for their OSCEs; and it worked. Students were keen to get back into the sessions and Chester and Wolverhampton Universities led the way. Whilst other Institutions were using mannequins, we were back at it. Cardio, respiratory, G.I. Cranial nerves, Neurological, and of course MSK examinations were being practiced almost as normal.
Teaching and support for the students was second to none and we were able to carry on almost as normal. It was for us a good time and now that the situations is getting back to normality we are being approached by a number of institutions to supply Associate Clinical Educators on their Programmes.
In the above video we listen to Bob (Founder and Director of Meducate Academy) and Senior ACE™ Mark Reynolds about what's been happening and how Meducate Academy is shaping up for the next 5 years.
If you are a Clinical Educator and would like to take advantage of using ACEs as part of your clinical teaching, book now for a free consultation. Contact us via the form below or give us a call on 07870611850. Thanks again for reading this post.