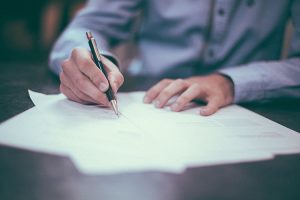 As a roleplayer and ACE for more than ten years one of the most common errors I see students make when taking part in their OSCEs is failure to read the questions correctly.
It is more common than you may imagine and not enough time is spent on this aspect of their education. Pete Gorman, course lead of Wolverhampton University, spends one evening of the week working online with his PA students looking at what he calls the "Golden 2 Minutes". Meducate Academy are currently working as partners with him on this aspect of their training.
That's how important it is.
At the start of OSCEs we have stations and on each one of them there is a question. The students have two minutes to read this question before they enter the station.
A nail biting two minutes for unprepared students!
What students do in that two minutes is crucial to their success when they sit down with the "patient' they are about to see.
It is often the case that a student, who feels they have performed badly on a previous station, carry this negative state onto the next question. When they arrive at the next station this inevitably clouds their judgement and therefore their ability to read the question correctly is compromised. Their heads are filled full of ideas about how they might have done better on that last station and this attitude has a definite influence on their state of mind when they sit down and look at the new question. This is the time to let that last experience go, to draw a line under it and clear their mind.
I often tell students to have a delete button in their head so that no matter what they did on the last station, positive or negative, is erased.
Deleted. They don't need it.
They need clarity of mind to enable them to read the next question now placed in front of them, to take a couple of deep breaths and relax. Then read the question.
So the first thing they need to do is to read the question carefully. Ask themselves what type of question it is. Quickly skim through it to pick out it's main features.
Is it a procedure, an examination or a history? How much detail do they have?
Quickly make a few relevant notes. Look at the patient information of which there may not be much, but if they concentrate and read the question there may be clues.
Age of patient, gender, ethnicity, marital status and their occupation?
Is there any information about previous medical history, or the medications they are currently on?
I know all of this may seem obvious, but when the red mist of fear comes down and clouds judgement it's easy to lose sight of the basics.
Think about your strategy for diagnosing the likely outcome. What are the red flags and if this is a mental health problem remember to do a suicide assessment.
All of these things are basic to good structure and in the heat of the moment it's so easy to skim through the question and think you have it right. Read the question carefully. It is that simple.
I remember one student who hadn't read the question carefully after a perfect introduction and performed a respiratory exam on me when she was supposed to be performing a cardio vascular exam! Ooooops! Needless to say she failed that station.
Check out some of our videos on our YouTube channel to give more guidance. I will be posting more later in the month.