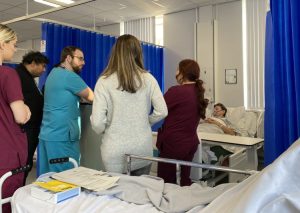 I want to answer a question I am regularly asked by academics, clinicians, students and other medical roleplayers: "How does an ACE differ from a medical roleplayer, a simulated patient and a volunteer patient?"
The following information draws on our 25 years of collective experience as medical roleplayers and ACEs. We have years of interaction with simulated patients, volunteers and medical roleplayers.
Let us start with volunteers.
In our experience, a volunteer is someone who offers their services to give something back to the NHS for free. They have little or no training and often have to use crib sheets to help them act like a patient for students. Whilst volunteers are of some value to the student, they are not trained or qualified to give constructive feedback on the techniques the student needs to learn.
A simulated patient is someone who acts as if they have a pathology, or uses their actual pathology, with a short backstory they must learn. They have not been trained to give specific feedback to the student about the techniques the students are employing. Simulated patients may be asked for feedback by the teaching team on how the student made them feel during the session. However, this information is fed back to the student by the training team, not by the simulated patient. During the session, the teaching staff will monitor student/patient interaction.
The Medical Role player on the other hand is someone who is usually a trained actor and has undergone some training with regard to communication skills. They are expected to give high-quality objective feedback from a third-person perspective to the student. They can, and often come out of their role to give instruction about how the student can improve their performance and increase empathy with the patient. They work on everything from a simple consultation (history taking) to playing difficult patients, challenging behaviours, suicide and mental health scenarios, as well as working with colleagues from other health professions. They will also play the role of consultants, doctors, nurses and paramedics when needed.
The Associate Clinical Educator (ACE) is a type of medical roleplayer who is exemplified by their in-depth knowledge of the various body systems and pathologies. The ACE is responsible for developing and delivering educational programs that utilize simulated patients and medical role-players. The ACE takes a comprehensive approach to develop these programs, ensuring that each program is designed to meet the specific needs of the learners.
The Associate Clinical Educator (ACE) takes the models of the simulated patient and medical role-player to a different level. Exemplified by in-depth knowledge of the various body systems and their pathologies. A medical roleplayer is an individual who is trained to simulate different medical scenarios in order to help students learn how to interact with patients. These scenarios can include breaking bad news, dealing with difficult patients, and end-of-life scenarios. The role-player is expected to provide objective feedback to the student on how they interacted with the patient, from the patient's point of view. In order to do this, the role-player must have a basic understanding of communication training and be able to help the student improve their communication skills.
ACEs are highly trained professionals themselves, but also have in-depth knowledge of the various body systems and their pathologies. This makes them uniquely suited to running simulations that are as realistic as possible. This helps medical staff to be as prepared as possible for when they need to use these procedures in real-life situations.
Evidence of a mix of styles, from volunteers, experienced role players and ACEs, was exemplified by the work we did for Chester University at a recent training session with the first and second-year Physician Associate Students.  These students worked alongside nursing staff and social workers in an immersive exercise designed to allow the students the opportunity to work under the pressure of a simulated patient journey. The simulation suites were designed to replicate two busy hospital wards. In the simulation, there were patients presenting with dementia, alcohol dependency, gastrointestinal and cardiac problems, as well as the challenge of working with other health professionals.
The students were supervised by experienced members of the academic staff and the at the end of the simulation the students were given feedback by both the clinicians and the associate clinical educators.
If you are a clinician who would like your current group of Physician Associates to benefit from our expertise in medical simulation, get in touch with us now.

Please contact: bobspour@meducateacademy.com

.